Many people do not know this but Sikkim was not a part of the Indian subcontinent until 1975. It was in this year that on the request of the PM of Sikkim, it became the 22nd state of India. It is the only Indian state where the majority finds its origin outside of India, the case here being Nepal.
Let's explore the state, which pays homage to our brave soldiers by building a temple. Decode Sikkim with #OUTDOORKEEDA
Red Panda's Home
The Red Panda, an endangered species is the state animal of Sikkim. Yeahh guysss, only China cannot boast of cuteness, we have it too. I believe there is no need for an army in any country, just line up the pandas (black or red) and we will end up with an army so cute that no one will attack anyone. Way to world peace ya!!!!!!!1
Ok, ok coming back to Sikkim!! Sikkim is the second smallest and the least populous state of India. It is surrounded by Tibet, Bhutan and Nepal in north, east and west respectively. The Khangchendzonga National Park occupies 35% of the state. The capital of Sikkim has been placed in Gangtok.
Being blessed by remarkable biodiversity, the people of Sikkim know very well how to take care of their surroundings. All plastic and Styrofoam products are banned in Sikkim. In addition to this, Sikkim is the first state in India to practice organic farming.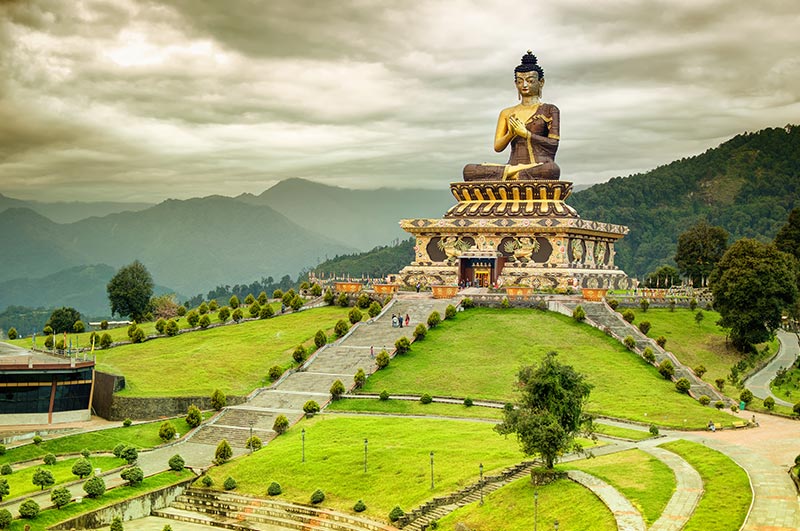 The people of Sikkim are very warm and hospitable and the weather is welcoming all around the year. All the seasons have something special to offer you. The summers (April to June) are pleasant, with temperature ranging from 5-25oC. Night's in Sikkim are always chilling, so always pack a good quantity of woolen clothes while visiting Sikkim. If you want to enjoy the ambiance, this is the best time to book your tickets for this place.
The monsoons (July to September), range from 4-15o C and can a bit rough with heavy rainfall and landslides. The monsoons offer affordable rooms and ample tourist destinations, as the crowd density is very less.
If you are a snow lover, winter is the best time to have fun in Sikkim. However, be a bit careful as the temperature falls down to -4 to 7oC.
The state of 11 Languages
Yes, as many as 11 languages are spoken in Sikkim. They are English, Sikkimese, Nepalese, Gurung, Limbu, Magar, Rai, Newari, Sunwar, Lepcha and Tamang.
The Lepchas- Children of the forest, Nepalese and Bhutias live with harmony peace and love. The people of Sikkim just need an opportunity to celebrate, be it any festival or wedding or plainly just New Year. Do not forget to enjoy Chang- a fermented millet preparation while touring there.
Being an environment friendly state- the art and craft of Sikkim uses wood mainly bamboo. The carpet work of this state is also quite remarkable.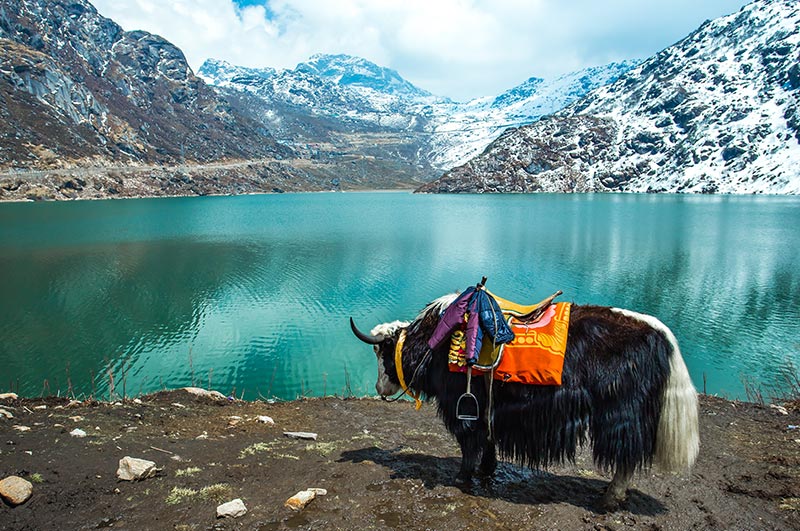 The valley of rice
The Tibetan's call Sikkim as Drenjong, which means 'valley of rice', and rightly, so the staple food here is rice and lentils. Not only rice the Sikkimese cuisine is dominated by non-vegetarian dishes. Let's check em out—
Sha Phaley— Semi circled bread stuffed with cabbage and ground beef, deep-fried and served with sauce. The Roll House offers the best Sha Phaley in the state.
Thukpa— this unique combination of noodles and soup is quite popular among the Sikkimese. Mixed with many indigenous vegetables, this dish is not only tasty but also healthy. No one can have just one!!
Dumplings— all the northeastern states have one thing in common i.e. dumplings. Sikkim is no different. What an Indian commoner understands as momos, dumplings come with various variety of stuffing.
Phagshapa— the pork lovers, this one is for you. A tangy combination of pork and radish, the Golden Dragon hotel in Gangtok is famous for this healthy dish.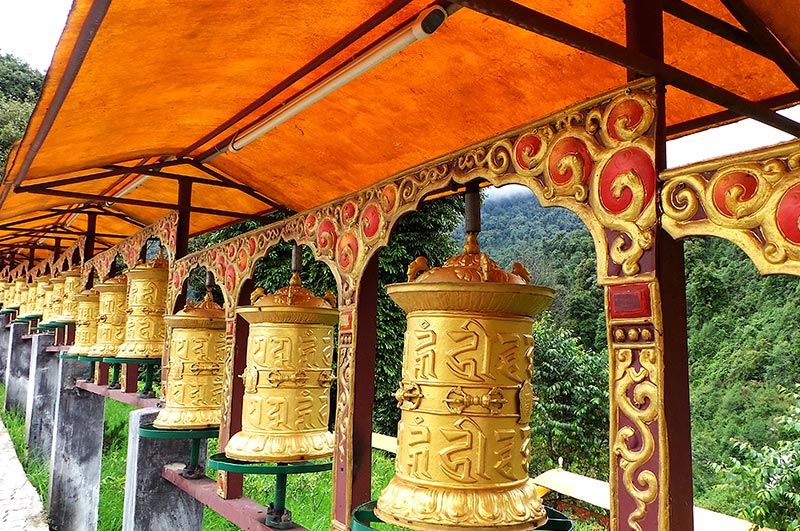 Top places to visit in Sikkim
Although there are various places to visit in Sikkim, we have brought the best 7 to make your trip plan a bit easier—
1) Nathula Pass
Located at an altitude of 14140ft, this is the trekker's heaven. Do not forget to take pictures under the cloud in Kupup. Along with a digital photograph, do not forget to take a mental picture of the breathtaking view from the Nathula Pass.
2) Tsomgo lake
A water body made of glacier, also known as Changu Lake, this prime spot of Sikkim is located at an altitude of 12310ft. because of the whopping height this lake bags the title of being at the highest altitude. Another distinct character of this lake is that it is shaped like an egg and is about a kilometer long. The lake remains frozen in winters.
3) Yumthang Valley of Flowers
In the duration of April to June, the rhododendrons fill this valley in their full glory. Situated on the banks of Teesta River, this valley spreads at a height of 11,000ft above the seas level.
4) Khangchendzonga National Park
It is the largest (850sqkm) wildlife reserve in Sikkim. Musk deer inhabit this reserve, flying squirrel, barking deer, Tibetan antelope and Himalayan black bear. The best time to visit this park is from October to December and from March to May.
5) Pelling
The best view of the Kanchenjunga Peak is possible from Pelling. This scenic town is located at a height of 7,200ft above the sea level. The waterfalls here provide perfect background for a memorable image and memory.
6) Namchi
Meaning the top of the sky, it is one of the most picturesque town of Sikkim. Namchi is more famous for its religion than tourism. This town is a major Buddhist pilgrimage.
7) Do Drul Chorten
Built in 1945 this is the largest Buddhist stupa of Sikkim. This Stupa exists along with 108 prayer wheels. The indigenous orchids found in this place are of high commercial as well as medicinal values.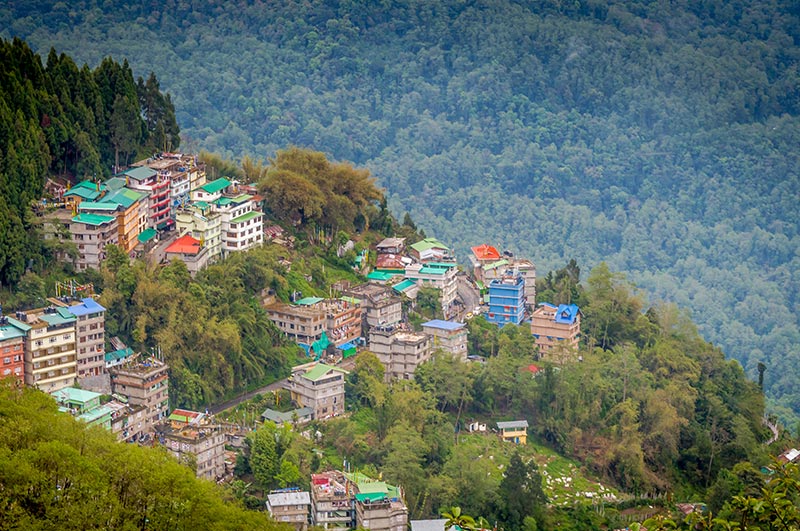 Adventure in Sikkim
It is not possible to have Himalayas without any adventure. Sikkim is a favorable spot for almost all kinds of recreational activities. You can enjoy Rafting on Teesta, Paragliding, and Cable Car ride in Gangtok, Trekking, Rock Climbing, Mountain Biking and Mountaineering.
Sikkim is a perfect blend of beauty, religion and adventure. Enjoy the monasteries with your family or go on a trek on the high glaciers with your friends. In every way you will come back awed and inspired with a new kind of energy flowing through your cells.