If you are a wildlife enthusiast then India is a heaven for you..... Travel as far as you can and unravel the mysteries of this land as you may be astounded by the beauty of India at every step. India is a land of great enigma which never ceases to amaze its visitors.
The country is gifted with diverse and dissimilar landforms making it a paradise abundant with numerous animals and birds.
INTRODUCTION TO WILDLIFE SAFARI IN INDIA
India's varied landforms make it home for innumerable wildlife species and a wildlife safari through the dense forests offer a valiant adventure with memories for a life time. India is the last home for Asiatic Lion found in the forests Gir National Park in Gujarat. The animal is endangered but its population is thriving in this area. All this has been possible due to efforts of Indian forest department and the local inhabitants of the place.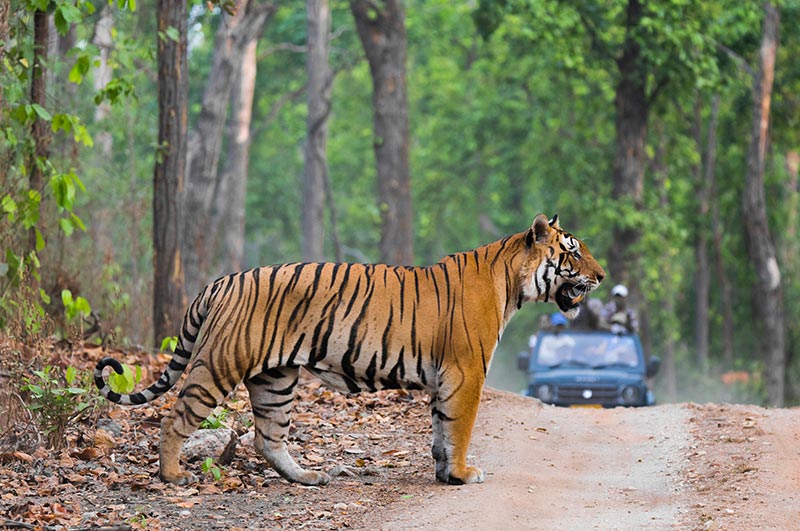 VARIOUS WILD LIFE SAFARIS IN INDIA
India has many wonderful places ideal for wildlife safari. These places include Bandhavgarh National Park in Madhya Pradesh, Jim Corbett in Uttarakhand, Ranthambore National Park in Rajasthan, Kaziranga National Park in Assam, Sunderbans National Park in West Bengal, Periyar Wildlife Sanctuary in Kerela, Kanha National Park in Madhya Pradesh, Hemis National Park in Ladakh, Sasan-Gir Wildlife Sanctuary in Gujarat, Manas Wildlife Sanctuary in Assam among others, the list seems never ending, all due to spectacular variation in landforms in India ranging from tall Himalayas to burning Thar desert to flat beaches of Goa to islands of Andaman and Nicobar. From Kashmir to Kanyakumari the place is pervaded by majestic animals and birds.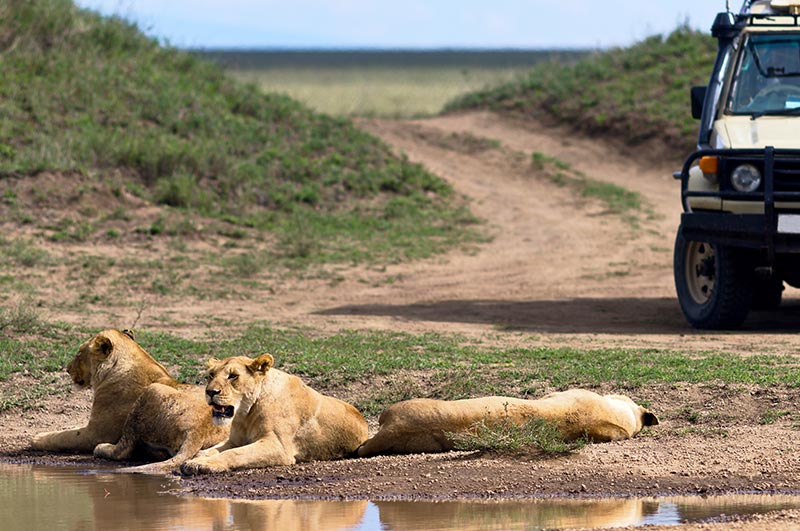 TOP 5 WILDLFE SAFARI IN INDIA
Sasan-Gir National Park, Gujarat
Gir national park is the only habitat for Asiatic lion. It lures tourist because of its open Jeep safari which lets you see the mighty lions in their natural habitat. The unmatched wilderness of Gir is heart-pumping and gives unparallel joy. The best time to spot the lions is around dawn and dusk. The park's rugged scrubland also offers the ecstatic sight of other animals like leopards, the Jackals, striped Hyenas, and India Fox among others birds, mammals and reptiles. The best time to visit spectacular alleys of Gir National Park is between December to June.
Jim Corbett, Uttarakhand
The Corbett national park is adored for its tiger and other wildlife richness. It is the home for over 650 species of bird, a true delight to bird watchers. The place holds the glory of being India's oldest and most prestigious national park. Besides the most furious cat- tiger, you may also spot Serow, Goral, and Himalayan Tahr among other fascinating wild species. The best time to visit Jim Corbett national park for wildlife safari is Mid-November to June.
Ranthambore National Park, Rajasthan
Rajasthan, the land of royalties is the home for majestic predators like tigers. The national park used to be the hunting ground for Maharajas of Rajasthan and now it is one of the biggest national parks in India offering a wildlife safari through the verdant greenery and pictorial ruins of this famous heritage site. Other animals which add to the charm of wildlife safari in India through the jungles of Rajasthan are wild bores, Sambars, Sloth bears etc. The best time to visit is between October to June.
Hemis National Park, Ladakh
Given the amazing landscape versatility of Indian topography, the delight of wildlife safari in high terrains of Ladakh in Hemis National park is euphoric. Jammu Kashmir is rich in flora and fauna and thus offers a complete package of refreshing wildlife safari to its visitors. The "heaven on earth" is a sheer delight to visit. The Hemis National Park is famous for its Snow Leopard and hosts a variety of species including 16 species of mammals and 73 birds. The best time to explore this national park and enjoy a wildlife safari is between May to September. Besides the endangered Snow Leopards, Tibetan argali sheep, Ibex, Blue sheep, chukhar, snow cocks, golden eagles etc call it their home.
Periyar Wildlife Sanctuary, Kerala
To undermine the beauty of south Indian states will be a great blunder. The wildlife safari through the picturesque wildlife sanctuary offers a close glance to humongous elephants in their natural evergreen forest covered with thick trees, through which even the sun rays find it tough to penetrate. Besides the mighty elephants and tigers one may have a beautiful glance of Wild Pigs, Sambar, Gaur, Mouse Deer, Dole or Barking Deer, Indian Wild Dog among others. The national park is the home for 49 species of mammals, 246 species of birds, 28 species of reptiles, 8 species of amphibians, 22 species of fishes and 112 species of butterflies. Though this national park is open throughout the year but the best time to visit is during September to December.
Now it's time to rush, pack your bags and get captivated by the scenic amphora of Indian subcontinent and enjoy the nature's bounty of great scenic beauty and rich biodiversity. When you visit these wildlife sanctuaries and unravel the mysteries of these awe-inspiring habitats while enjoying wildlife safari, you will experience that the nature has been so grateful and magical to gift us this adorable beauty.
Respect the nature and its inhabitants and always remember," we wander for distractions, but we travel for fulfilment."