Why spend your hard-earned money in travelling to other countries, when you can get even better experience in India itself. Our own paradise on Earth, the mountains of Jammu and Kashmir are calling out to you. What are you waiting for???????????
Let us decode Jammu and Kashmir with #OUTDOORKEEDA.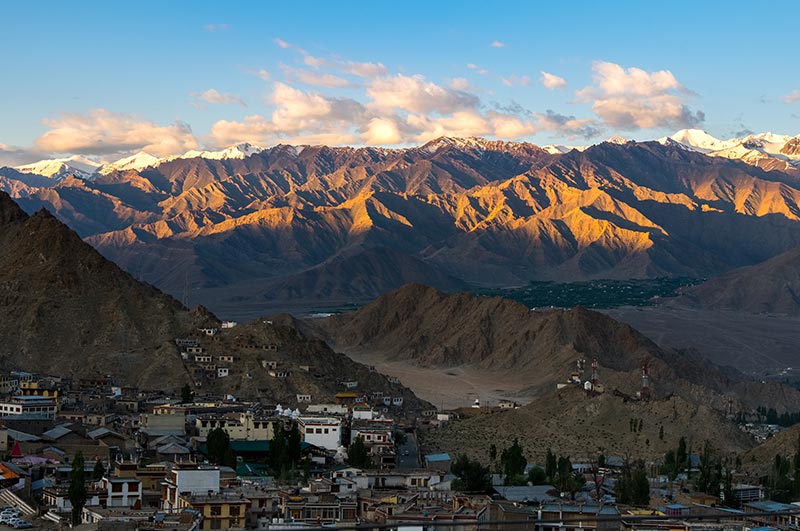 Details Please??? Oh Cmonnnnn….
Like you need to be told about what a nature's marvel Jammu and Kashmir is!! Really!!! Fine!!
Jammu and Kashmir is situated like a crown on India's head. It is the northernmost state of Indian Territory. In India,Punjab and Himachal Pradesh, share boundaries with it. Its international neighbors are Chinaand Pakistan.
Jammu and Kashmir can be totaled in three regions- Kashmir Valley, Jammu and Ladakh.Jammu's shrines, Kashmir's beauty and Ladakh's Buddhist culture will charm and amaze you at the same time. The Pir Panjal range separates the Indo Gangetic Plane from Kashmir Valley while the Himalayas do the same by acting as a friendly barrier between Kashmir Valley and Ladakh.
Adorned with thorn scrub forest, subtropical pine forest, broadleaf forest and subalpine conifer forest, Jammu and Kashmir is a state where all elements of nature can be found. Jhelum is the major water source of Jammu and Kashmir. Apart from it, Chenab, Indus, Ravi and Tawi hydrate the state.
How did I forget about Himalayas!! OOppppssss!!!! The Himalayas have blessed Jammu and Kashmir with their innate beauty and magnificence. They stand here tall and mighty, with all their glory. In the highest elevation of Himalayas nothing can be cultivated, only rock and ice is found.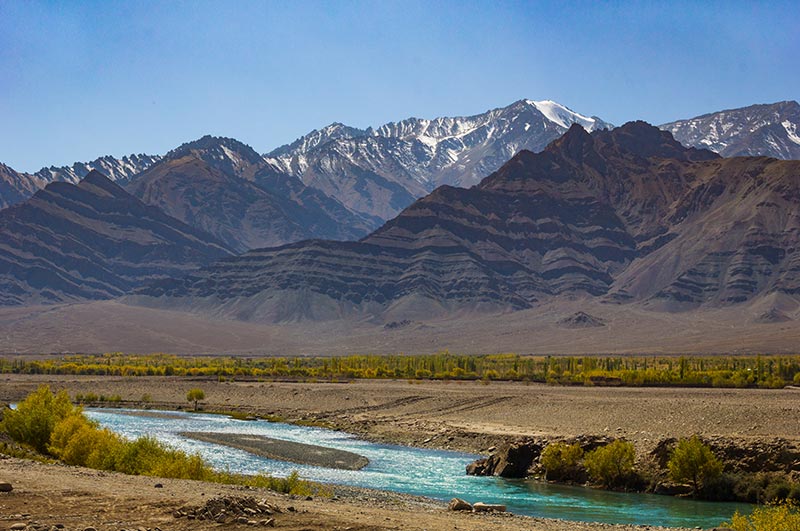 Sightseeing in Jammu and Kashmir!!
Having the nature's blessing there are innumerable options for sightseeing in the paradise. Let us start this long list.
Pangong lake, Gulmarg, Srinagar, Pahalgam, Pulwama, Sonmarg, Leh, Rajauri, Anantnag, Poonch, Kupwara, Zanskar, Nubra valley, Khardung La, Patnitop, phewwwww!!!! M outta my breath. Trust me these are just off my fingertips, there are so many left.
If I call out any more names I ll have to book my tickets for J&K right away, so moving on!!!!!!!!!
Always pleasant, always beautiful!!
The weather here is always pleasant; however, Jammu can be as hot as 400 C in the summers (April-June). This is the best time to go on a trek in the mountains and lose your way to find your soul. The monsoons are filled with rough rainfalls and last up to August.
This season should be avoided as the weather could get extreme sometimes and can suck the fun outta your trip.
The winter descends with October and lasts up to March. This is the best time to enjoy snow, and participate in many fun filled activities like skiing and sledging is in the winters.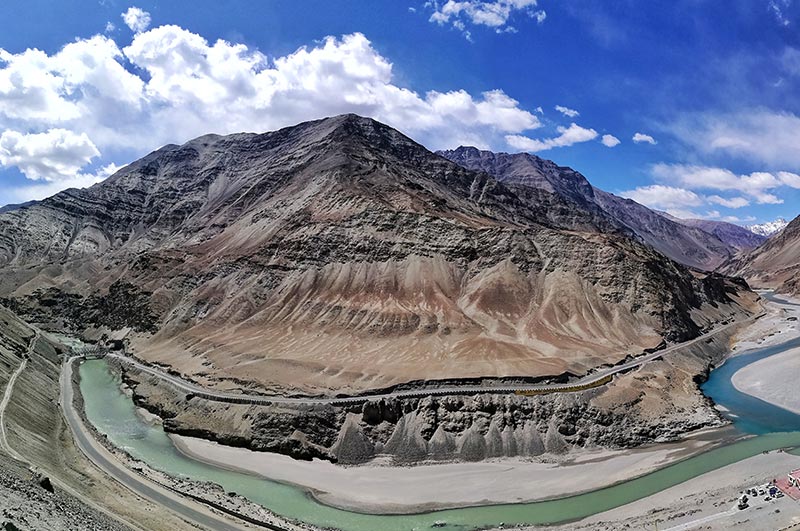 The dynamic culture…. The lovely people!!
The culture of Jammu and Kashmir is dipped in 'Kahva', a locally prepared green tea, garnished with cardamom, almonds and cinnamon.
Ever heard of salted tea?? Yea, I was equally amazed. This nature's beauty offers you the best 'shir chai' or 'noon chai', which is a tea prepared by milk but instead of sugar, salt is added to it. It is topped with a lot of cream and the original color of this tea is pink.
People simply follow three religions in Jammu and Kashmir-- Islam, Hinduism and Buddhism. Ladakh being very close to Tibet shows remarkable similarities to the Buddhist culture of Tibet. The Hindus heavily dominate Jammu. There is a separate section of people called 'Dogras'. They can be spotted in Jammu and majority of then follow Hinduism.
Urdu, is the official language of this state. Apart from it Dogri, Kashmiri and Ladakhiare also spoken here.The most popular dress of this state is the 'Pheran'; a long woolen kurta wore over the dress in order to keep warm from the cold outside. The evident love of jewelry is clearly visible in Jammu and Kashmir. Women like to adorn themselves by wearing numerous indigenous pieces of ornaments. The 'Dejharoo' is a necklace worn by Hindu women, which signifies that the woman is married.
Abundant peach and apple cultivation and beautiful embroideries on woolen clothes are a special feature of Jammu and Kashmir.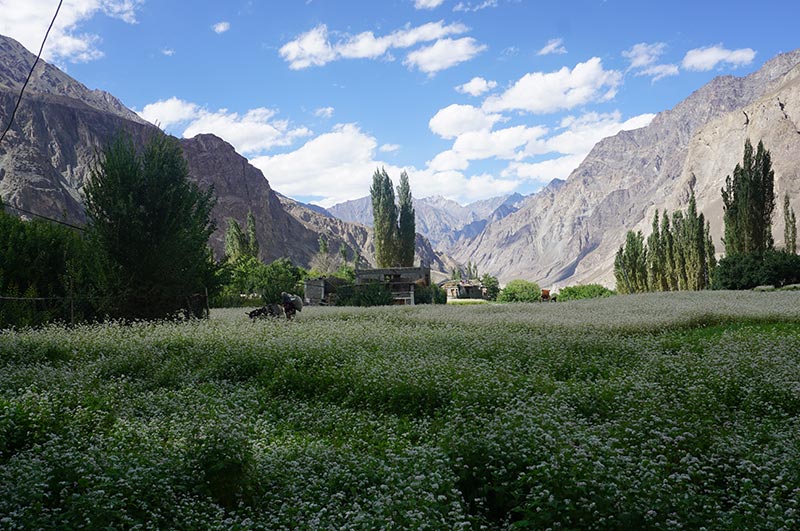 What's cooking in the kitchen??
Can you smell it too? Yummm… the crown of India not only gives relief from heat but also lets you relish on delicious, mouthwatering, indigenous delicacies.
Dum Aloo or Dum Olav is the gift of Jammu and Kashmir to the whole world. Paired with chapattis or naan, this delicacy of J&K is the best a veggie could have.
Jammu and Kashmir is not only a picturesque heaven; it is heaven for non-vegetarians too. The exclusive Red meat and lamb preparations are enough to make the non-veg lovers visit this place repeatedly.
Yakhni, a yogurt lamb curry, is prepared by adding onion paste, cardamom, mawal flowers, dry mint leaves and fennel seeds. Other non-veg delicacies include—Rogan Josh, Aab Gosht, Goshtaba, Matschgand and Kashmiri Muji Gaad.
Skyu give you a Tibetan feeling, although it is not a native dish of Leh. The Khambir is paired with butter tea. This pan bread made of whole-wheat flour is a distinctive specialty of Ladakh. Apart from this, momos, thukpa, tenthuk, paba, and tangdur are some jewels of Ladakh.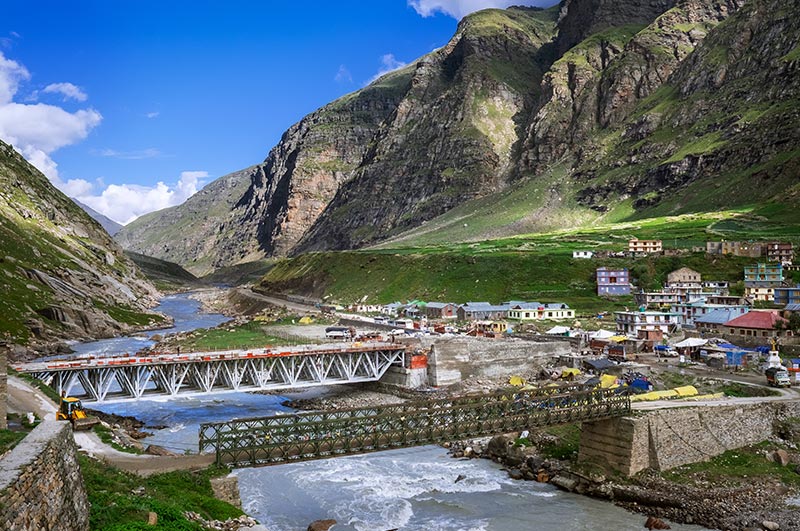 Exercise with lots of fun!!
After having a meal as heavy as this, a normal walk won't be sufficient. How about Trekking? Are you game for it? No, fine!! Hey, there is one more option. You can relax on the Shikara ride in Dal Lake.
As you know there is a lot of snow, someone is bound to slip. Why not slip in style? Skiing is an art in itself, which anyone can master with practice. There you found another reason to visit Jammu and Kashmir frequently.
Ok, I am not giving up so fast, how about mountain biking. Ha… Meandering your stylish bike through lakes, valleys and snow capped mountains will burn up a lot of calories. Paragliding. Ok let me tell you it is not safe to fly in the sky after having so much food. Also, the added weight will hamper the situation. Just kidding!!!
If you are a gym enthusiast and want to keep up your physique even when travelling, Mountaineering is the perfect sport for you. There is also a hope for people like me of losing some weight.
If you want to pump your adrenaline after such a heavy food coma, Raftingis also practiced here. Alternatively, if you simply want to lie on the floor go for Camping in your tent. No one's gonna disturb you there.
The rich tradition and exciting offerings of Jammu and Kashmir will make you visit the paradise repeatedly. Every time you will not have enough of everything there. So start from an early age and make it a yearly visit, as just one is not enough to quench your thirst.