I'd rather be in the mountain thinking of god than be in the church thinking of mountains. --John Muir
So thoughtfully said by Mr. Muir; in the end you won't remember the time spent working in office or mowing your lawn so learn these lines by heart and stop suppressing the adventure kid in you. Take a break from your busy as a beaver schedule and go for a walk (or technically trek) among the mountains. There are three types of people:
*Tourists *Travelers * Explorers
Trekking is for the third kind. Fill your lungs with fresh air, free from all the pollutants and reenergize your soul for challenges life throws at you.
Decode Trekking with #outdoorkeeda
Why trekking among the treacherous paths when one can fly and reach there in a short time???? The answer to this my friend comes from a famous quote saying, "In every walk with nature one receives, more than one seeks." You need special shoes for trekking and a bit of a special soul as well. Let #outdoorkeeda give you every piece of knowledge you need before, starting your walk to the mountains.
Trekking???? Hiking???? What is it????
You must have read these terms while doing your research before planning to start your expedition. Let me break them down for ya!!!!
Hiking: If you have, a desk-bound job then hiking is a perfect way to give your joints and bones a refreshment. Hiking is simply walking on manmade trails/roads/paths. Minimal amount of fitness is required for hiking. It ranges from a single day hikes to multi day hikes. Analyze your health to choose the time limit properly.
Trekking: It is more like exploring the unknown. The best part about the trails in trekking is that there are no trails at all. In this recreational activity (as the modern society of 21st century calls it), the participants explore the wilderness of nature on their foot. Be it mountains, hills, rivers or forests if you have the will power to cross every hurdle that comes in your way then you have chosen the right adventure.
Usually there is no transport facility available and sometimes the surrounding conditions are challenging. As you are going to explore the unknown while trekking, it is advised that you go in groups of 4-6 and do not wander alone. Hire a guide who is familiar with the surroundings and porters if available, as it will be difficult to carry the entire luggage by yourself.
The terms 'trekking' and 'Himalayas' have almost become synonyms of each other but in India, you can explore the Western Ghats and Nilgiri hills along with some amazing treks like the "Living Root Bridges" in Meghalya. Trek in any direction n be amazed by discovering different realms of nature.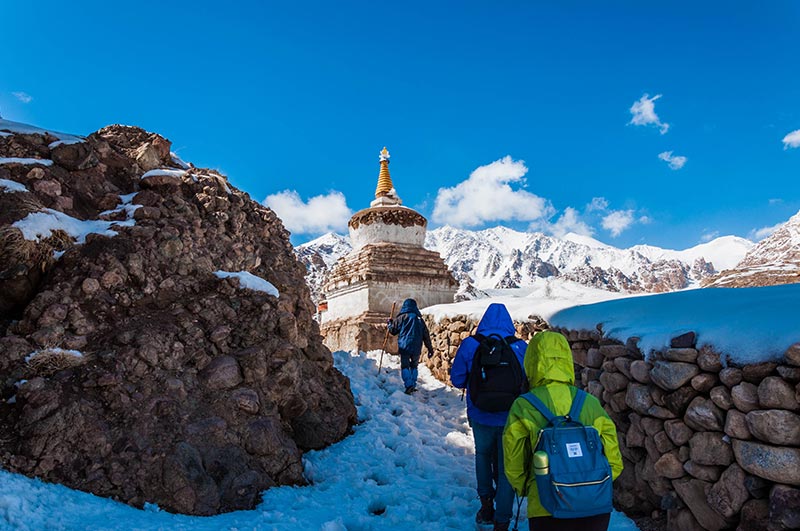 Know your trails (or no trails)!!!!!!!!!
In India, you will find three kinds of trek:
Easy peasy— This trek is best for beginners as its clear by the name itself. Around 4-5 kilometers of walking per day is required. The exploring lasts for 2-3 days and the paths are less bumpy as compared with moderate or hard treks.
Not so easy/Not so hard— If you have done some trekking before and want to expand your limits then this trek is for you. It is of moderate consistency. About 5-6 hours of walk per day falls under this category. The course through this is difficult than easy but simpler than hard. A reasonable physical fitness will be a plus point to complete this trek successfully.
Hard trek—This trek will test you not only physically but also mentally. Lasting for more than a week, trekking under this category requires you to face some challenging hurdles. The trek provides best ways to unravel the restricted characteristics of land and thrill the trekking enthusiast in you. The exploration will enrich your mind about the place, people, culture and bless you with some lifetime experiences worth writing in your diary.
Prepare and prevent
As you are going to map some deep gorges and curvy terrains all by your foot, the first and foremost thing to prepare for is physical strength. Let trekking be the reason for you to hit the gym. Build your stamina exponentially by doing hardcore strength training involving back and shoulder workout.
Practice breathing exercises. Dig out some ancient yoga exercises like Kapalbhati and Pranayam to make your lungs strong and efficient.
Pack only the things you need to survive while on trek. Not even a single extra grain should be in your stuff. You would not want to lag behind because of the weight of your luggage.
It is advisable to wear full clothes to refrain from bruises or cuts and also insects of any kind.
Refrain from smoking and alcohol as you would like your organs particularly your lungs to be fully functional during the journey.

Decode top 10 trekking destinations with OUTDOORKEEDA

Let outdoorkeeda decode for you the top 20 destinations for a wonderful trekking experience in India.

1. Stok kangri:

It is one of the most popular treks across India. Situated at a height of 20,187 feet in Ladakh region of north-west India,this trek is no cakewalk. Ample preparation and acclimatization is required before venturing out on this trek.

2. Hamta pass:

It is situated at a height of 14,039 feet and is a part of the PirPanjal range between Chandra and Kullu valley in Himachal Pradesh, India. It is considered a convenient trek for beginners and it can be completed in around four days. The meaning of Hamta is 'In the lap of Himalayas' and as is clear by the name you will be mesmerized by the beauty of this scenic trek.

3. Valley of flowers:

As the name suggests this valley is home to some of the most beautiful flowers showered on this earth. One of them is the blue Primula which covers the entire valley during middle July to middle of August. This trek is situated at a height of 14,100 feet. The trek is easy to moderate and is suitable for beginners as well as people with a little trekking experience.

4. Triund:

It is situated at a height of 2828 m. It is an exciting trek for beginners as it contains simple trails and then they gradually ascend into steep ones. One can also enjoy the Tibetan culture of Dharamshala as triundis situated at only 18 kms from it.

5. Tosh Valley:

Tosh valley trek is named after the village tosh, which is situated at a height of 7,874 feet in Parvati valley. In this trek you can enjoy the mesmerizing view of tosh glacier, Papasura peaks and white sail. It takes about 5 days to finish this trek. It is moderate type of trek.

6. Kheerganga:

It is situated at a height of 13,100 feet. It is an easy trek to cover so it will be a good experience for beginners to try their steps on. This trek takes around two days to finish. The best season to go on this trek is in May - November. The base camp of this village is situated in kasolvillage which is very popular among trekkers and adventure seekers these days.

7. HarkiDoon:

It is situated at a height of 12,000 feet. This trek is approachable in winters as well as summers. While walking in this trek you will get a glimpse of the Jaundhar glacier with an added bonus of Swargrohini peaks. It is an easy to moderate kind of trek and it can be finished in a week. You will have to walk for around 44 kms to finish this trek.

8. Roopkund:

You may need some prior experience to venture out in this trek,as it is moderate to difficult in nature. This trek gives you the scenic pleasure of Gharwal, Uttarakhand. An interesting fact about this trek is that the Roopkundlake contains around five hundred skeleton of humans on its edge. Any paranormal enthusiast out there???

9. Chandratal:

It is an easy to moderate kind of trek. It is situated at a height of 14,100 feet. The base camp of this trek is situated in Manali. It will take around five days to finish this trek. The best season to go on this trek is from mid-June to mid-October. You will get to enjoy the charming view of Chandratallake while trekking on this trek.

10. Nag Tibba:

This is an easy to moderate type of trek. You can map a maximum height of 9,915 feet on this trek. The duration of this trek is around 3 days and its base camp is situated in Pantwari. It takes just 4-5 hours from Deharadun to reach this trek. This trek gives a mesmerizing view of the Himalayas without any interruption. Outdoorkeeda wishes you an adventurous trekking experience and hopes this article helps you find one of your trekking destinations.

Necessary ingredients

Check the following necessary items in your list to be ready for trekking—

Good quality trekking shoes paired with socks.
Woolen clothing. In the mountains, the weather can change drastically from being pleasant, to cold and extremely cold so keep your clothing layered to match the weather.
Good quality rucksack.
Sleeping bag.
Camera/cellphone and other digital accessories.
Headlight, torch and batteries.
Glucon-d, Lozenges, candies.
A rope, swiss knife and compass.
Toiletries
Extra cash.
Garbage bags.

Remember that you would never want to walk through a pile of garbage. Keep the surrounding clean by collecting all your trash and disposing it in the right place. A little bit of consideration while preparing for trekking will serve you with hassle free experience.