A life without adventures is monotonous and boring. Jawaharlal Nehru once said, "We live in the world full of beauty, charm and adventure. There is no end to the adventure we can have, if one we seek them with our eyes open."
The sight of vast ocean of infinite pearls that snow seems to be, gives divine pleasure that knows no bound. The mere thought of playing with snow fills even an ailing man with liveliness and vehemence. Snowboarding is the most pleasant way of savouring the beauty of pristine mountains. The pleasure of snowboarding amidst white snow is captivating. It gives a feeling of sailing on clouds.
It's time to say a big 'yes' to adventure and master the art of snowboarding in the extraordinary terrains of India.
SO, WHAT IS SNOWBOARDING?
Snowboarding is pleasing sport and once you start enjoying it... then my friend, you have tasted blood. The sport is beautiful and addictive. Snowboarding demands you to slide down the slope of snow capped mountain while balancing yourself on the snowboard. The sport is quite popular in western world and is even an official sport of Olympics. Snowboarding has taken inspiration and evolved from several other sports like surfing, skateboarding, skiing etc. But it is much younger than other sports.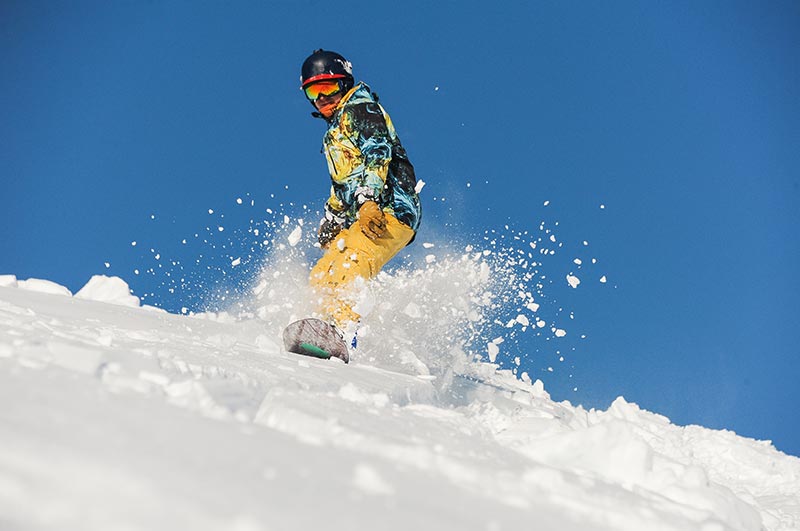 SNOWBOARDING IN INDIA??? IS IT EVEN TRUE??
Looking close India seems like a kaleidoscope of enthralling culture, mesmerising traditions and vibrant geographies. Till now Snowboarding has not been well- appreciated in India. But the sport has gained serious momentum as a rising phenomenon. Bestowed with boon of mighty Himalayas, our breathtakingly beautiful country beholds many ultimate snowboarding destinations. Indian subcontinent offers myriad opportunity for snowboarders to relish.
LET US EXPLORE SOME OF THE DELIGHTFUL SNOWBOARDING DESTINATIONS IN INDIA.
The Himalayan Mountain boosts of highest peaks in the world. Our country is blessed with snow-capped peaks, lush valleys, picturesque lakes and stunning landscape.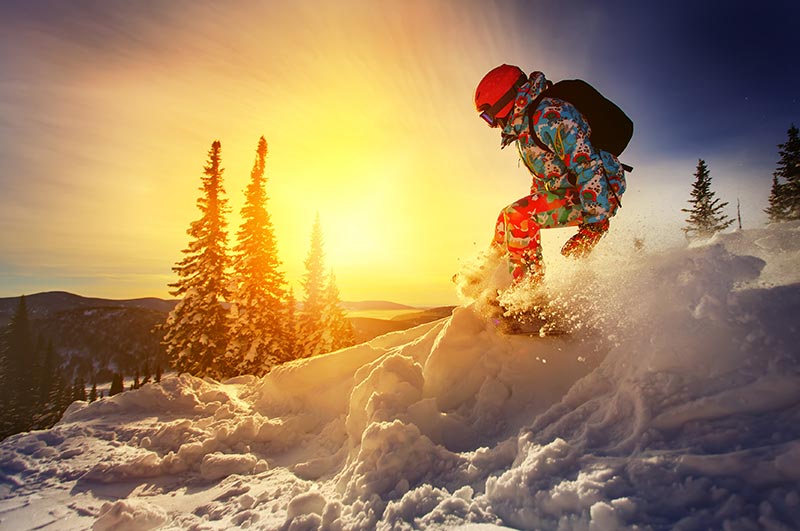 AULI, Uttarakhand –
Auli is a scenic destination in the shadows of Mt. Nanda Devi. With clean, white, glittering snow Auli is heaven for snowboarders. The real thrill of snowboarding in Auli lies in its 3Km long slope ranging from a height of about 2519 to 3409m. The best time to visit Auli is from November to March. But the place is delight for travellers and nature lovers year-round.
The nearest airport is Jolly Grant Airport in Dehradun. Haridwar railway station is the nearest rail connection to Auli. The place is well-connected by roadways and both public and private transport is available to travel to Auli.
GULMARG, Jammu & Kashmir –
The extra-ordinary beauty of Gulmarg makes it one of the most sought after destination in India. Pine-dotted slopes, snow-covered peaks, floral meadows, lush scenery and tranquil ambiance add to the aura of Gulmarg. This heartland of winter sports in our country provides best long run snowboarding experience on its natural slope. At Gulmarg, natural powder white soft snow allows for an eclectic snowboarding experience. The best time to head to Gulmarg is from November to mid March for snowboarding.
The nearest airport to Gulmarg is Sheikh ul-Alam International Airport in Srinagar. The closest railway station is Jammu railway station which is connected to all major rail routes of India. Gulmarg has a nice bus service and is connected to most neighbouring towns of Kashmir.
SOLANG NALA, Himachal Pradesh –
The magnificent Solang Valley is located 14 Km from Manali. Encircled by beautiful glaciers and snow-capped mountain peaks makes the experience of snowboarding more memorable and enchanting. An ideal adventure destination for snowboarding due to its heavy snowfall prone trait and milky white snow attracts snowboarders from across the globe. The best has abundance of snow during December to January making this season most favourable for snowboarding.
The most proximate airport is in Bhuntar town. The nearest railhead is Joginder Nagar railway station. Bus and taxi services can easily be availed to reach Solang Nala.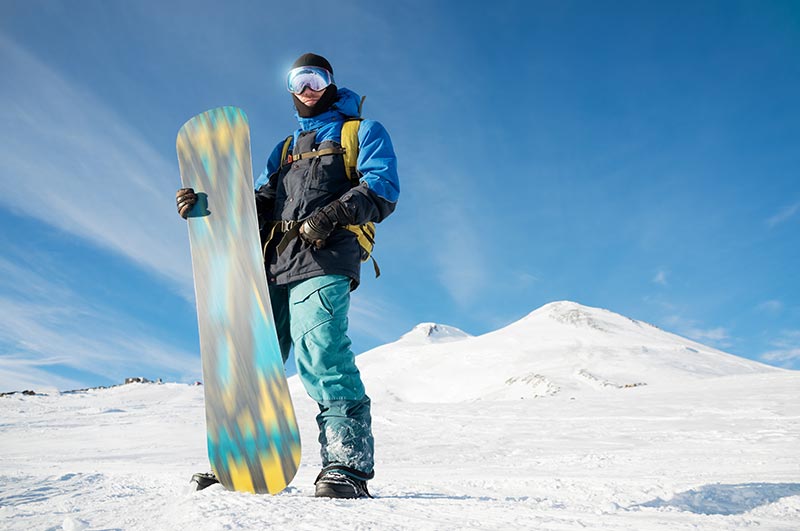 KUFRI, Himachal Pradesh –
This astounding small hill town of Himachal Pradesh is located 16Km from Shimla. The immaculate pristine beauty of Kufri makes it a favourite destination amid skiers, snowboarders, trekkers and leisure vacationers. The falt slopes at Kufri makes it an ideal destination for beginners. The place is beguiling tourist destination and it beams with tourists in winters. The best season to visit Kufri is from January to February.
The nearest airport to Kufri is Jubbarbhatti Airport near Shimla. The nearest railway station is also in Shimla which is well connected to all major cities of India. State owned buses as well as private transport is available to take tourists to Kufri. The place is quite accessible and mesmerising.
TIPS FOR SNOWBOARDING
Wear right clothes before going for snowboarding. Make sure you wear thermal clothes in layers. Also wear snowboarding jacket along with snowboarding trousers.
Safety gears like helmet, gloves and goggles are must. Wear wrist guards and lacrosse shorts (these are bicycle shorts which protect hips, crotch and thighs).
Rather than looking at your feet, look at where you wish to go.
Take some snowboarding lesson from the guide or instructor.
It is very important to learn how to fall to avoid hurting yourself severely. Learn how to steer and change direction and speed.
Learn the symbols and signs used during snowboarding and on hills. It might stop you from entering into an accident prone area.
The secret to master great snowboarding skills is to practice, practice and practice.
So now get your equipments right and get ready to don the mountains. Wear your snowboarding equipments and look cool and enjoy the thrill of a magical experience. Awaken the adventurer in you and remember, "If it wasn't hard, everybody will do it. It is hard and that makes it great."
Mountains are calling and we must go.