South India is the peninsular region of the Indian subcontinent. The states that are part of this rich yet diverse arena are – Andhra Pradesh, Telangana, Karnataka, Kerala and Tamil Nadu. It also includes three union territories—Puducherry, Andaman and Nicobar islands and Lakshadweep.
South India is particularly inhabited by Dravidian people. Don't know Dravidian……. Oooopppppsssss!!!!!!! Lemme shower you with some general knowledge—Dravidians are basically the people who speak one or more Dravidian languages. The four major Dravidian languages being spoken in India are—Tamil, Telugu, Kannada and Malayalam.
Adi Shankracharya coined the term Dravida. He formed Dravida by joining two terms—Dravya (water) and Vida (meeting place). In this context, Dravida could be interpreted as 'the land where three waters meet'. The three waters being—'The Indian ocean', 'The Bay of Bengal' and 'The Arabian Sea'.The Dravidian people have some distinct physical characteristics like dark complexion, large round eyes, and broader facial features.
The South Indian region is comparatively less invaded than the rest of the country, a major reason being that it was surrounded on all sides by vast measures of water. The ancient remains of Vijaynagar, Hampi can still be seen along with the lofty Chola temples and Pallava sculptures.
Ok, ok enough of History and GK; I can see some of you are already drowsing.
In South India, you will find an intense webbing of rivers, along with spice and tea gardens, huge palm and coconut trees. This region is also very popular for itspaddy cultivation. All states of South India are accessible by trains, water, air and road with Karnataka, Kerala and Tamil Nadu having international airports.
The most popular festival celebrated in South India are—Pongal, Onam, Mysore Dasara, HampiUtsav and Thrissur Puram.
The major portion of South India, except the coastal region, is situated on the Deccan Plateau. Being near to the waters, South India has maritime climate, mostly tropical. The summers here are hot and humid, monsoons are flooded with heavy rainfalls and winters are pleasant. The best time to visit South India is from October- April.
Some famous hill stations of South India are – Coorg Karnataka, Ooty Tamil Nadu, Munnar Kerala, Coonoor Tamil Nadu and Vegamod.
Some special treats of South India
South India is known as 'the land of temples'. You can worship to your heart's content here. The famous Meenakshi temple of Madurai, Tamil Nadu is decorated with beautiful carvings and is a masterpiece of Indian artisanship in itself. Some other famous temples here are Venkateswara temple (Andhra Pradesh), Virupaksha temple (magic of Vijaynagar Empire and UNESCO world heritage site), Brihadeshwara temple located in Thanjavur and Ramnathswamy Temple (One of the Jyotirlinga).
Holy pilgrimage at Rameswaram—this city holds a very special place in the Hindu mythology, as it is believed that Lord Ram built the Ram Setu, in order to reach Sri Lanka, from here only. The Jada Tirtham, a pond where Lord Ram took bath before worshipping Lord Shiva is also considered very pious. The Dhanushkodi temple and Five Faced Hanuman temple are also situated here.
The famous cave temples of Badami, which was inhabited by the Chalukya dynasty in the past, are remarkable representations of Indian art and architecture.
South India is not just temples and caves. It is much more. Being surrounded by water on three sides, almost all adventure water sports are available here. From paragliding, surfing, underwater walking to parasailing everything can be found in this region of India. International surfing festivals are held here every year. The only Microlight Flying School is in Bangalore (It capital of India), Karnataka.
Kerala, will offer you some of the best Ayurvedic massage (ladies!! pack your bags!!!!!!!) along with its tranquil, quiet beaches. Some other famous beaches of South India are—Marina beach (Chennai), Mahe beach (Puducherry), Mahabalipuram beach (Tamil Nadu), Gokarnabeach (Karnataka), Allapuzha beach(kerala), Anjuna beach (Goa)and Cherai beach (Kochi).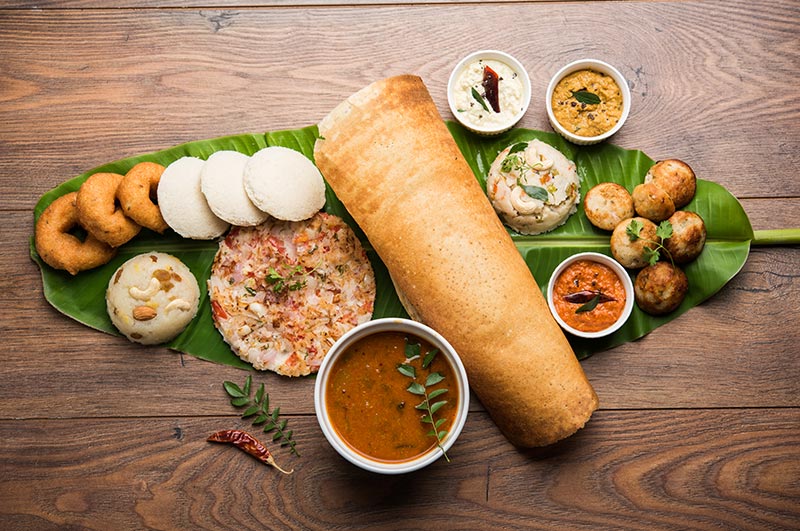 Popular finger-licking delicacies of South India
As soon as we hear South India, images of yummy Rawa dosa and idlis (fermented rice cakes) dipped in sambhar pops up in our mind. Not just these, the uttapam, appe and vada are equally delicious and popular. All these are teamed up with sambhar and coconut chutney.
The food diversity here is extraordinary. The cooking pattern in South India is dominated by the use of tamarind, coconut, mustard seeds and curry leaves that makes it both succulent and healthy at the same time.
Goa's food culture is heavily influenced by the Portuguese. The seafood (of course!!!!!) is also very popular here. Prawns, Pomfret, Mackerel and Tunaare prepared with different combination of curry depending upon the local region. Payasam (kheer) is prepared on every auspicious occasion and festivals.
The South Indians are very creative with rice, Lemon rice, Pepper and rice, Curd and rice and what not. Just give them rice in any form and they can make it tasty and eatable. Along with rice they also make Rasam and Bissibela.Fresh cocnut water is available almost everywhere.
Lets talk facts!!!!!!!!!!!!!
South India was ruled by more than eighteen dynasties spanning over a period of 4000 years. The major ones were- Chalukyas, Cholas, Kakatiyas and many more.
The Kathakalifrom Kerala, Yakshagana from Karnataka, Kuchipudi from Andhra Pradesh and Bharatnatyam from Tamil Nadu are some of the dance forms, which are famous worldwide.
South India is home to the largest Biodiversity in India. Over 6000 plant species can be found here. Moreover, over 1000 species of fauna can be seen in this region.
This region is one of the largest producer of spices in the country. Black pepper and Cardamom originates from here only. More than 9 lakh metric ton of spices are produced in South India every year.
48% of the entire cotton produce of the country is from South India. Tamil Nadu contributes 35% of the cotton in the country. After cotton silk is the major produce here.
9 of 32 UNESCO world heritage sites are in South India (so cooolllll!!!!)
Of the six classical languages of India, four are from South India.
Puducherry is the only union territory to have four different enclaves. It has its existence in three different states. As it was ruled by French East India Company, a lot of French architecture can still be seen here.
The literacy rate of South India is more than the national literacy rate. More than 80% of the people here know how to read and write.
This region comes second in the number of privately owned two-wheelers in Asia.