Beaches are the best place to rewind the turmoil going on in your mind and rejuvenate yourself for the next chapter's battle of your life. #OUTDOORKEEDA has taken the responsibility to decode some of the most exotic and happening beaches of India for you. Just read along and choose your favorite spot to get drunk and dance until the morning.
Radhanagar Beach:
Location: 12kms from Havelock Island (Andaman)
This crescent shaped spotis decorated with the tile of 'World's 7th BestBeach'. Government boats, Makruzz and seaplane from Port Blair can land you here. The emerald green water, the white sand, the orange-red sunset and the green groves of coconut and palm, makes you feel like God has painted a scenery and placed it on Earth. Along with swimming and sunbathing, you can also enjoy here by taking part in snorkeling, scuba diving, parasailing and boating.Sunrise and sunset are the main attractions of this beach.
2. Agonda Beach:
Location: Goa
This piece of nature is perfect for a quiet day at the beach away from the conundrum of the city. The scenic beauty and solitude will blow you away. The tourist density of this beach is comparatively low. You can relax and refresh yourself in the 'Blue Planet Wellness Retreat', which provides options like yoga classes, solar heated pool and after doing both of this you can relish some organic vegan food in the Blue Planet café. If you want to enjoy beer, many bars and local drink shops are open until evening. The Agonda Church is also worth a visit.
3. Puri beach: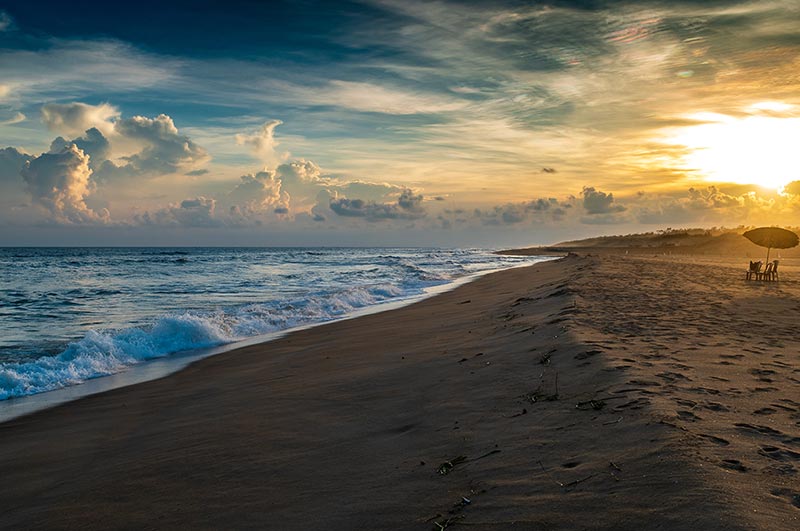 Location: Puri, Odisha
Dipped in spiritual waters of the temple of Lord Jagannath, Puri beach stretches up to 7 kms. The breakers that roll in from Bay of Bengal make it a perfect destination for sea cruising, boat riding, angling and swimming (in the eastern part). Devotees of Lord Jagannath, visit this spot, from all over India. It is worldwide famous for sand art by Mr. Sudarshan Pattnaik. The annual Puri Beach Festival is held every year in November. You can enjoy variety of grilled seafood while shopping for handicrafts here. Do not forget to visit the lighthouse (timings:4pm-6pm).
4. Varca beach: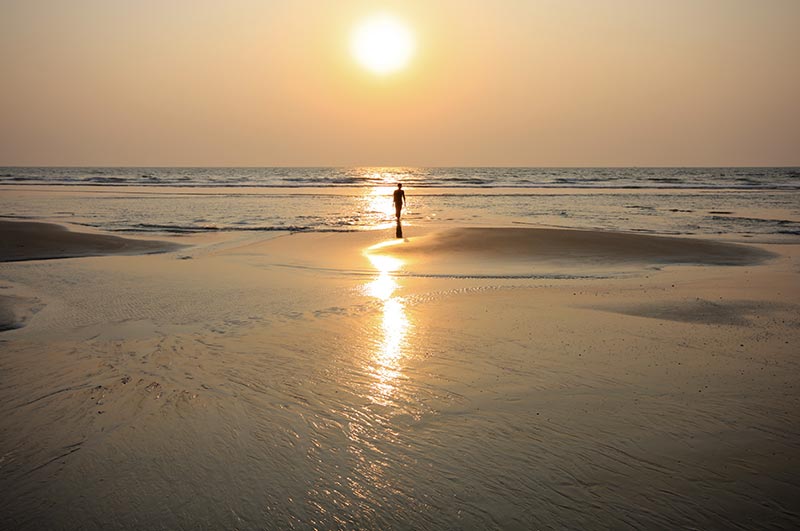 Location:South Goa
Solitude lovers, we have decoded another spot where you can relax in peace. It is also called the 'Queen of Goa'. Having red sand at some places on an otherwise white sand beach, black lava rocks also adorn this beautiful piece of nature. Apart from taking part in various water sports like jet skiing and banana boating, you can also relish on delicious seafood and Goan drinks all day long and party hard at night too. If you find all this too simple, you can treat your eyes with some Dolphin watching ride and make your trip a fun one.
5. Elephant beach: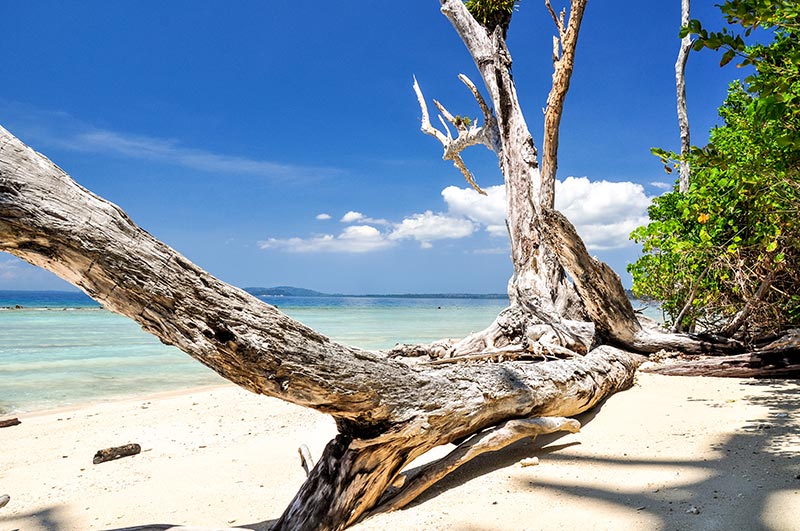 Location: Havelock Island (Andaman)
A popular snorkeling destination, this natural beauty can be reached by just a 20-minute boat ride from Havelock. The present day fraction of the beach is just 1/4th of what it used to be, rest all washed up in Tsunami. This location lets you enjoy exotic marine life and coral reefs along with fun activities like diving, underwater walking and kayaking. Do not forget to apply a lot of sunscreen. Usually nobody is allowed on this beach after 4pm.
6. Yarada Beach:
Location: Vizag, Vishakhapatnam
One of the cleanest beach of Vishakhapatnam, it is very less crowded as it is at a distance from Vizag. Decorated with crystal-clear blue water and golden sand this spotis surrounded by mountains. You will find 2-3 picnic spots maintained by the locals here. Swimming is not advisable here as the slope of this beach is very steep. Always carry you own food and pre-book transportation for returning. Nightlife is nil as the beach is very secluded and far from the city.
7. Dhanushkodi Beach: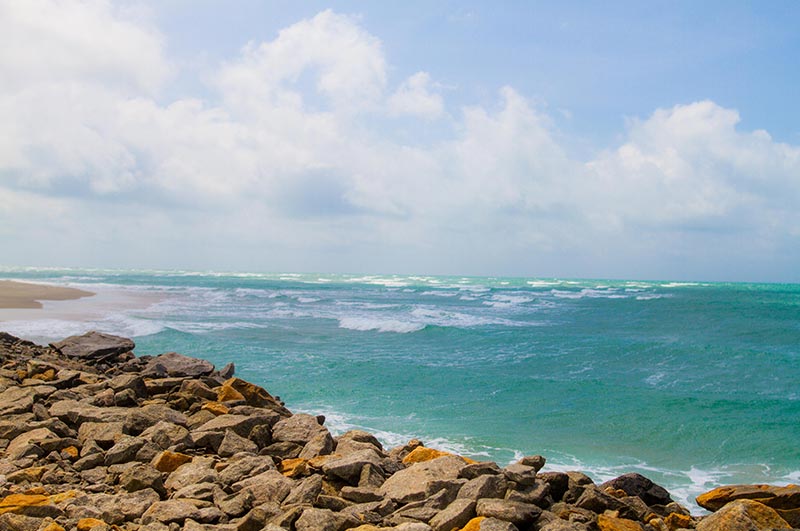 Location: Rameswaram, Tamil Nadu
This beach gives literal meaning to its name by lying on the southern tip of India. The Bay of Bengal meets Indian Ocean here at a point called 'Arichal Munai'. Home of many whirlpools, swimming is not advisable here. Only a few fisherman live on this destination and visit or stay at night is completely prohibited. The city is constantly developing and the road now leads up to the Raam Setu (Arichal Munai). This beach is a natural bird sanctuary; flamingos, sea gulls and other European birds are a constant visitor here.
8. Palolem Beach: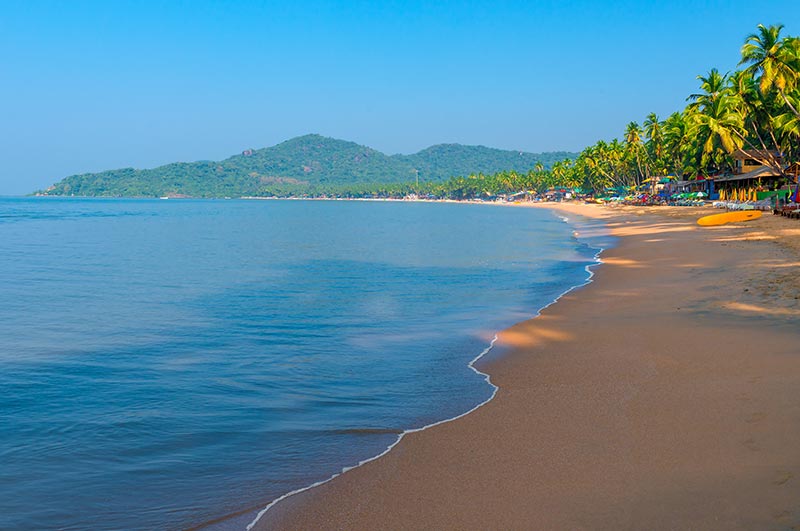 Location: South Goa
This beach is popular for its exciting night parties and live music. Keeping in mind the noise pollution, silent Disco can be enjoyed here out in the open. A night walk, in the white powder like sand, with your loved one, can be a lifetime memory. The major attractions of this beach are—Monkey Island, mouthwatering seafood, dolphin spotting and shopping in flea market. The serenity lovers may find it a bit overcrowded. Almost all the clubs and bars are open until the wee hours.
9. Marari Beach: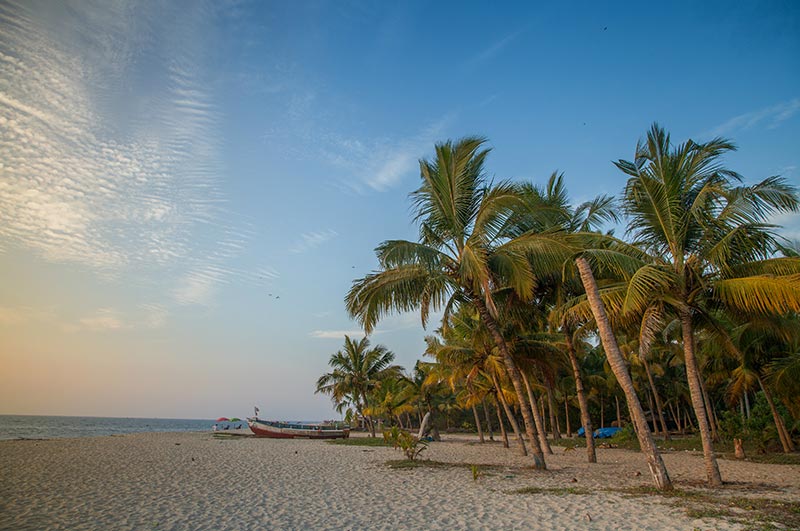 Location: Kerala
This beach gets its name from 'Mararikulum' a local village on Arabian Sea coast. 'The Blue Symphony', a collection of four cottages is the main attraction of this place. Accessible by air, road and rail, this sandy beach is mostly deserted. Adventure freaks will find many adrenaline pumping water sports here. With an active nightlife, this beach offers many sightseeing locations. In the month of August, Snake Boat races are organized here. A scarcely populated destination, you can spend hours and be amazed by nature's creation.
10. Colua Beach:
Location: South Goa
Dance your heart out in the numerous bars and clubs (some outdoors), at this beach. Day life hereis filled with hustle-bustle, as it is a crowded spot. You can also visit the 'Lady of Mercy Church' on your way to the beach. Always beware of your belongings while roaming at this place. The major tourist attractions here are the Portugal buildings and villas. It is advised to wear full and covered footwear as the sometimes snakes show up at the beach.
11. Candolim Beach:
Location: Goa
All the EDM lovers, you know what we are talking about. The exotic Sunburn Festival, held for three days every year rocks this beach and the audience to their heart's content. If you are an India music lover, 'Over the Flames' is where you should be. Apart from this, there are 'Raffles' for karaoke and 'Stone house' for cocktails and live music. Almost all popular water sports are available here. You can also shop for custom-made clothes, metal jewelry and artificial stones at this beach.
12. Mandrem Beach: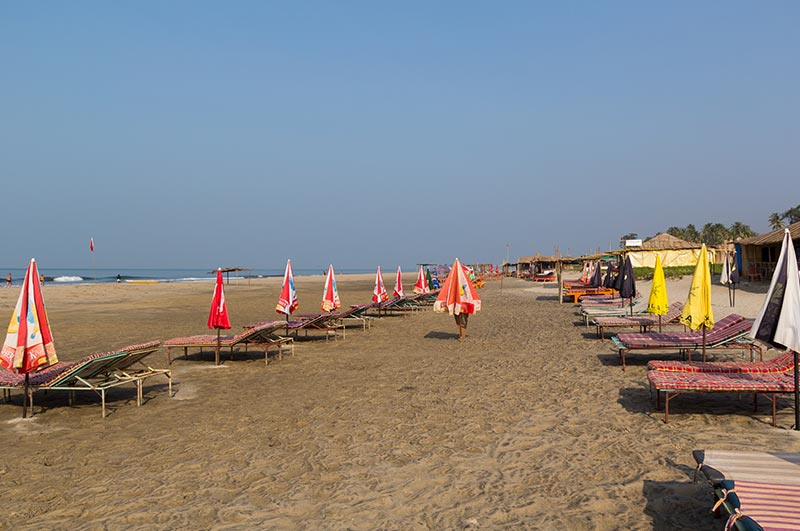 Location: North Goa
Best choice for those who love to have it wild, this picturesque spot of nature is a paradise for serenity lovers. Yoga practice on sand, bike rides and swimming are the main activities of this beach. As this spot is sparsely populated, one can laze around all day long. The remains of a shrimp factory give this destination a vintage look. Because of its natural jewels, this beach is a popular wedding destination. Turtles, Kingfishers and white-bellied eagles are seen in abundance here.
13. Baga Beach: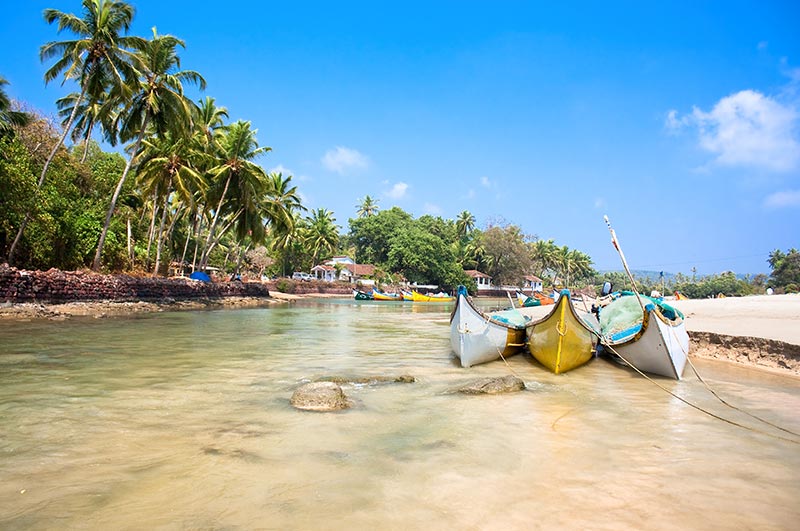 Location: Goa
Nearby to Calangute beach, this beach has an active nightlife. Some famous clubs here are Mambos, Britto's and Tito's. You can have fun in the late evening when the shacks play loud music, while enjoying the sunset. This spot is home to some exquisite tattoo parlors, Thai massage, spas and palmistry shops. Jet skiing, parasailing and skiing are some water adventures, which can help you pump your adrenaline. A white sand beach with sky blue waters, make this destination is a perfect romantic gateway.
14. Calangute Beach: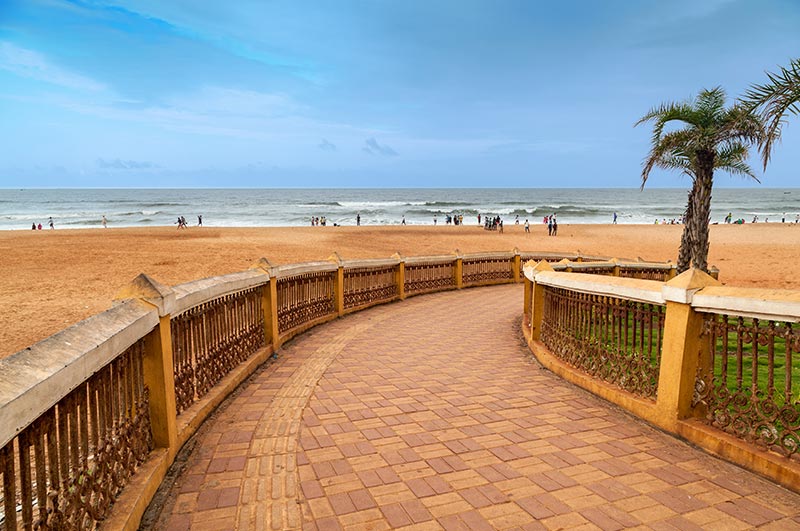 Location: Goa
If you want to go on a shopping spree of handicrafts, trinkets and pawns, while sunbathing on a beach then Calangute beach is the perfect location for you. Also known as the 'Queen of the beaches', it is highly crowded all around the year. Many clubs and bars are just at a 10 min distance from Calangute making it a popular party destination. Many beach huts and shacks are available for you to lounge on with a drink. Other water sports like parasailing, scuba diving and snorkeling can also be enjoyed here.
15. Bambolim Beach: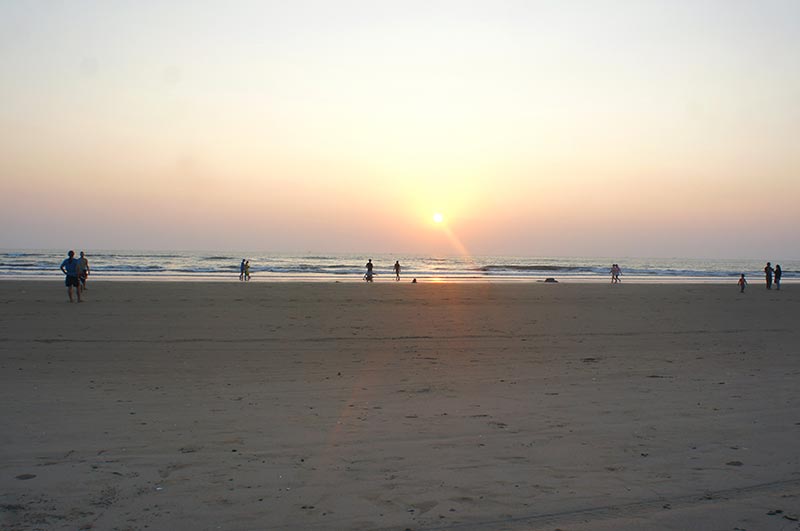 Location: Goa
Just 7kms from Panaji, this beach is quite near to the Goa Institute. With amazing Goan cuisine, scuba diving, jet skiing and parasailing can also be enjoyed here. A number of bars and lounges make the nightlife here quite active. The Bambolim Beach resort provides you a comfortable and luxurious accommodation. You can also show your volleyball and cricket skills on this beach. This scenic spot of nature is accessible by road, air route and railways.
P.S.—Always maintain the cleanliness of the beach where you go. Like you do not appreciate landing on a place where your feet comes out full of garbage, so do others. Always collect all the waste materials and dispose them at the proper place.
Love you to the Beach and Back!!!!!!!